AGF was selected as the Representative Case of the China ESG30 Forum
09/16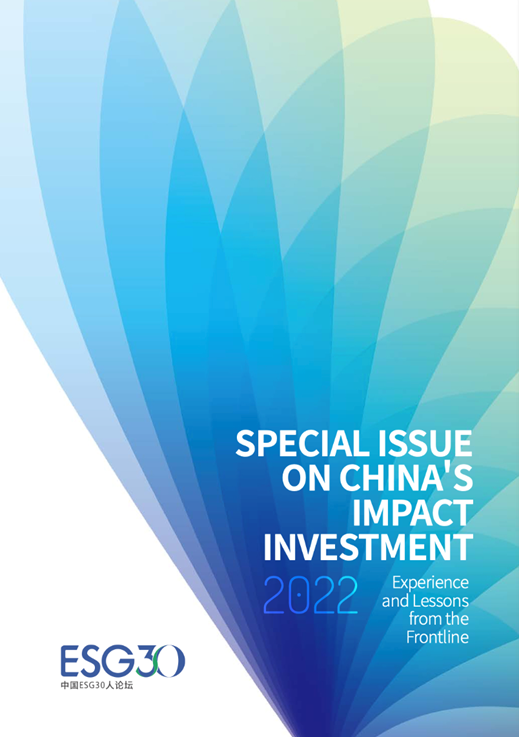 Recently, the (hereinafter referred to as the 'Report'), produced by China ESG30 Forum, was officially released at 2022 China International Fair for Trade in Services International Forum on ESG and Sustainable Investment. This report summarizes China's experience in the development of impact investment through case studies and provides an outlook for the further development of impact investment in emerging markets.

Asia Green Fund (AGF) was successfully selected as a representative case in the field of green development and climate change, fully demonstrating the win-win investment concept of needing both green impact and financial returns.

From the case study of AGF, the Report found that only when the impact investment becomes the DNA and core mission of the institution, running through the investment process of "fund-raising, investing, post-investment management, exit", and through the effective combination of technology, entrepreneurship and the business model that can truly land in China, can the institution achieve a win-win situation of green impact and financial returns. At the same time, a clear national strategic direction and a favorable macro policy environment also play a very important role in promoting the development of green impact investment.

The Report also looks forward to the innovative development of impact investment in the post-epidemic era. According to the Report, impact investment has become more prominent in ESG investment strategy. Moreover, the impact investment not only develops in the primary market, but also grows in the secondary market. Impact investment in emerging markets may become a new influencing factor of international investment development. Under the background of several global issues, reinterpreting and practicing the mission of capital by ESG and impact investment, in a sense, is a rare consensus of human development. The world should continue to tap the potential of impact investment, promote better and faster development of impact investment in the future, and help solve global challenges.

The Original Link of the Report: https://promote.caixin.com/cxzt/2022/ESG30/SIOCII2022.html