Asia Green Fund has become a signatory of UN PRI
08/05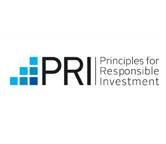 Recently, Asia Green Fund, a leading green impact private equity fund, announced the official signing up for the UN Supported Principles for Responsible Investment, becoming the UN PRI's latest signatory..

The United Nations PRI was initiated by the former UN Secretary-General, Kofi Annan, and launched at New York Stock Exchange in 2006. The PRI is an international network of asset owners, investment managers, and service providers that are committed to the development of a sustainable global financial system. Since its launch, the number of signatories has grown from 100 to over 3,000.

Dr. Bai, Chairman and CEO of Asia Green Fund said,"the Fund is proud to join PRI and work with institutions that share common principles for responsible investment across the globe in building a green investment ecosystem".

Luo Nan, the Head of PRI China extended a warm welcome to Asia Green Fund. She said that green impact investment is one of the most important investment themes of the world today, and it reflects the market trend and investors' long-term interests in pursuing sustainable development. As an emerging private equity fund, Asia Green Fund has adopted a comprehensive ESG investment strategy and green impact assessment system. "We look forward to cooperating with Asia Green Fund in promoting innovation, best practices, and leadership in the ESG investment community," Ms. Luo added.

In fact, Asia Green Fund is one of the first private equity funds in China that institutionalized ESG policies and quantitative evaluation of green impact through equity investments.
Through its first fund, U.S.-China Green Flagship Fund I, Asia Green Fund has established a rigorous green impact investment process that covers the entire cycle from fundraising to investing and exiting. Asia Green Fund has integrated green impact assessment into the selection of investment targets and helps its investment portfolios become their respective industries' green impact benchmark

In pursuit of green impact, Asia Green Fund does not comprise on financial returns. On the contrary, Asia Green Fund believes that, through its green impact investment process, its investment team is required to pay close attention to the risks that may have not been reflected in traditional investment process, allowing more effective risk mitigation and management post investment. From the portfolio company's perspective, the practice of ESG principles can enhance companies' branding, international recognition, market expansion and corporate governance, providing more sustainable growth.